Memory Care (Alzheimer's Care)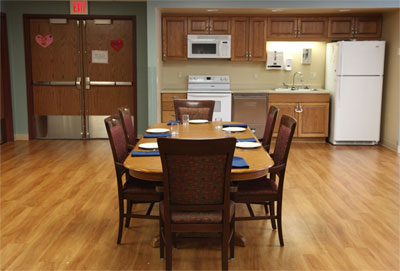 The early stages of Alzheimer's and various forms of dementia can be disorienting. Our memory care unit offers a home-like setting for a small number of residents. The memory care unit offers all the comforts of home with common living areas, kitchen and bathroom facilities. Residents dine family-style, offering opportunities for socialization and story-telling.
The memory care unit is a locked unit. Only staff and the residents' family and friends visit this area to reduce distractions and discourage over-stimulation that can be disconcerting to Alzheimer's and dementia residents. The unit is quiet, with no overhead paging or excess noise, to promote a feeling of comfort and serenity.
Most memory care residents have private rooms and all are encouraged to participate in daily activities. The activities are designed to retain current skills and preserve memory including:
Looking through picture books of loved ones
Painting
Cooking
Reading
If you have a loved one suffering from memory loss, the early stages of Alzheimer's or dementia, we encourage you to
contact us
to check availability for placement in our memory care unit.